Call (615) 601-3969 To Get Started!
We're not only one of the best choices you can make for web design in terms of making your site look great, stand out, and help turn visitors into customers…
…But we also have a unique design system that helps us dominate the competition when it comes to ranking #1 in the real Google search engines to get your site LOTS and LOTS of free traffic. For example you probably found this page by searching Google for Nashville Web Design or something like that.
What you're seeing is us dominating Google for the search term "Nashville SEO" – SEO stands for Search Engine Optimization – and because all of the digital ad agencies would love to rank #1 for that keyword it's very competitive – but this site that you're looking at right now and our various web properties just dominate that competition!
(Each red arrow is pointing to yet another of our web properties.
We've been doing Nashville website design that make your customers stand up (and pull out their wallets!) since 1998!
We've made sites for Lawyers, Doctors, and Wedding Cake designers. We've worked our magic all over the world and all over Nashville – including Franklin, Murfreesboro and all over the Nash-vegas area!
But there's more to when it comes to Nashville web design than just a good looking site – you also want your site to shoot to the top of the rankings in the real Google search engines…and we have a special formula to not only make your site look sharp, but also to help if naturally float to the top of Google…
…Because who cares if your site looks fantastic if you can't show it off?
Call (615) 601-3969 to get a look at our portfolio of sites and to get started today!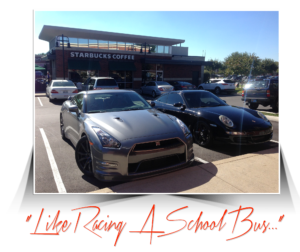 Here's a shot of my GTR from the Starbucks in Cool Springs – this is the #1 Starbucks in all the Midwest by the way…like i said, Business is BOOMING!…
…And having a site that looks great and gets TONS of visitors is like having the fastest race car on the track, it lets you trounce your competition with ease and in style!
We make your site so you or anyone on your team can quickly and easily modify it and so it's especially easy for it to rank in the real Google search engines! Because what's the point of a fantastic looking site if you don't get to show it off to Nashville and the world!
Get a highly professional website designed for you business or service. Whether you're a small business or other profession, our web services can help you get more customers online and inform existing ones with an online presence.
Checkout our portfolio of websites, Facebook custom tab pages, print media, mobile websites as well as other services.
Hope to work with you soon!
Call (615) 601-3969 to get a look at our portfolio of sites and to get started today!